hey! i am sane, intact, and i feel so fine.
to those who helped me get over my hell week, my dearest friends, thank you. your presence is very well appreciated.
and for you my readers, i give you, nike and kona...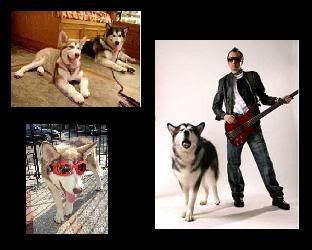 they are the coffee dogs we usually catch in eastwood when we have breakfast thursday mornings. they are actually alaskan malamuts. at first kasi i thought they were huskies eh. still mr. jojo isorena allowed me to post their pictures here. salamat po.
anyway, i spent my hell week with a lot of concerned friends. i figured out i won't snap at all since i can openly talk about my dilemma. raena said it might be information overload. probably. still i survived.i am very much sane. tired, but still alive.
i kept myself surrounded by friends, met up with a lot of those that i haven't seen for a long time. also, i had been working a lot with my hands. i think i just need to do something creative to de-stress. am now at work and i feel sleepy but light.
salamat everyone.