I now remember my story.

Yesterday, I went to my cousin the dentist to get an incisor filled. A crack came out and the enamel started to chip off, too. Yah, kumain ka ba naman ng staple wire eh, noh?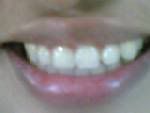 ganda na ng teeth ko ulit. whee!

Anyway, hindi yan ang kwento ko.

After my visit to the dentist, I went to our friendly neighborhood carinderia where mum, tita jo, ali, and my cousin joey were eating barbeque. I was supposed to get barbeque only (no carbs, please), but tita jo was eating this sizzling slice of beef and rice and said that it was good. Oh well. After waiting while nibbling on carcinogens, my food came. I had to wrestle and partly lost to that tough motherf*&@#!. Wow, that one really put up a fight ha. And it tasted blah.

And I had to complain that it wasn't worth my 90 bucks. Hehe, 90 na nga lang for a tbone thing, nagcomplain pa. and it burned my tongue pa. ayun sabi ni tita jo, kaya naman pala I didn't enjoy it kasi di ko nalasahan

But, di pa rin yan ang story ko.

Haha.

Eto na, a long time ago, when megamall was still the hip place to be, me being the coffeeholic that I am, would go to Coffee California everytime we went malling. Unfortunately, there was this one time when we really need to go home, but I really wanted coffee. I ordered a cappuccino to go, topped with towering whipped cream and chocolate syrup. Mum wanted to share the cup. So, we started on our way back to the car. And while walking, I was trying to sip the cream. Eh may sumamang kape. Potek, boiling hot. As in lumuwa ata eyeballs ko! Eh isip naman ako kung ibabalik ko sa cup ung kape eh sabi ni mum hati daw kami…dilemma…ayun, I swallowed the friggin' mouthful. Three days masakit ung throat ko. Haha. Siguro my mouth was all white nun, kasi seared ung gums ko. Weh!

Story ko walang kwenta. Hahah. Pero natawa ka naman. Hmp.


I don't feel well.

Oh, no…

I'm starting to go down again.

Poof. I'm back in my reality.

I don't wanna be sad again.