spent most of the weekend cooking. we made caramel apples on saturday night. these sweet treats give you a nostalgic feel.sinking your teeth into sticky moist caramel to be followed by the feel-good taste of juicy crisp apples gives you the feel of youth.
tj added a few pine nuts for effect. kasi daw halloween.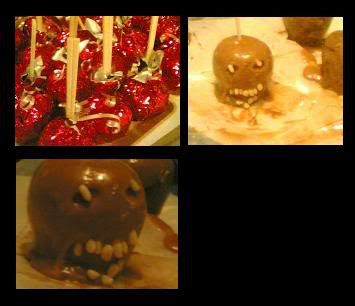 i'll be taking orders for christmas as early as november 15. you can email me at abbaghanda18@yahoo.com.
i'll be making cheesecakes, brownies, and rum cakes,too.
o di ba? nag-advertise pa ko. promise, they're perfect as gifts.