i finally found time to go get a foot treatment. had my nails done, too. and actually was able to get a haircut at 9pm.
my feet looks okay now. they feel clean,too. the pedicurista, however gave my big toes a beating. at least i didn't bleed. but they're still quite sore. as for my haircut...
do you know how hard it is to grow your hair long again especially when it is so used to being short? and do you know the pains of having unruly curly hair? i asked my bakla not to cut my hair shorter, but make it thinner instead. they keep standing on their ends eh. thing is, the top part looks nice but the back looks so april boy regino when he had short hair pa. kakaasar. kakapikon.
if my hair doesn't look nice by june, i'll have 'em chopped off again.
i told myself i won't go out saturday night, but eventually ended up having dinner at ch2. it's like a 20 minute drive away from home(when you feel like taking time to get there, ha) osha, 15 minutes na lang. lets, carrie, chrissele and i went videoke singing. ch2 has this vip rooms( vip doesn't mean lovely and nice, it just means, private and enclosed) and they can be rented for P250 an hour, and consumable pa yun. sang a lot, ate a lot.
me..................chrissele.......carrie...........let let...............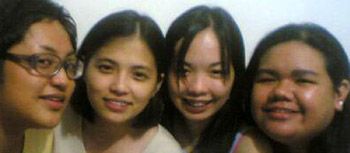 pretentious pa di ba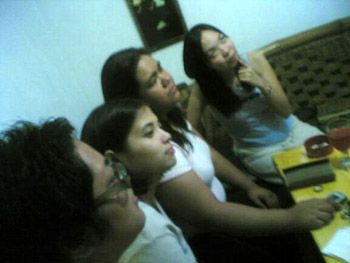 here are pictures from saturday night. as much as i didn't want to post their pictures here, nadaan ako sa pilit. okay.
we had iced coffee naman kanina at country garden. still near our village. nobody actually eats there. we were supposed to go swimming but we ended up watching the "star in a million" finals there. there were only five of us inside the cafe(cedric was with us but left early after a beer), but still the service was so bad. bad as in i'd rather eat in bahay hepa till i get sick.
can't wait for episode III. will somebody take me out,please?
i think i'm gonna be sick. the iced coffee doesn't feel well inside my tummy.
---------------
eten update:
we finally came up with ideas for invitations. hey, it rhymes! sayang we can't invite everyone. we printed them yesterday and sealed them with wax(melted crayons, actually) today. we didn't even stress ourselves out when wax seeped through the paper. it's a most normal thing.
tokens and candles are a check. fabric for dada also a check. what i will wear also a check( decided to modify stuff i already have). fittings a check, too. now, if only money for everything can be checked...
--------------
will spend tomorrow morning with ali. we'll go malling =)