Smsing

from eten: wahaha. Anlupet ng statement d2 sa jip. 'share TO seat, win a friend.' Aus.

Me: ahhh. Panu yun?

Ten: iniicp ko ba din eh.

Hala sige, go figure!
----------------------------------

Went to grilla last night for dinner with the rest of the faculty members. Good kare-kare. I got ham. Haha. After dinner, I went out the deck with tyrone and ten. I was starting to get AC allergy so I had to get fresh air. O eto. According to Oprah as told by tyrone, the meat we eat is digested through decomposition. Ewww, double dead pala ang meat sa insides natin. Ayus. E anu pa nga ba. Therefore we have to eat fiber and drink water to flush out ito. And whatever's left inside us becomes putty na nagiging cause ng cancer.

Also, the fat na dangerous ay yun naiiwan sa sides ng stomach at intestines kasi eto unan nagagamet pag kelangan ng energy. Sabi ko bakit dangerous. Di nya daw alam. Weh ang labo. They showed daw a healthy aorta. Sabi ko how can an aorta be healthy kung kinuha na sa tao at patay na sha, paano?!! Ang labo ko daw. So dapat kumain ng fresh na fruit and vegetables, na tawag naming ay mga pagkaing buhay at hindi luto. Kasi we need the enzymes daw to help digestion.

Weh anu ngayon?
---------------------------------
Yesterday I made my first batch of cheese sticks. Thank you, hunny, for sharing mum's secret recipe with me. Ang sarap kahit mejo overcooked ata, hehe. Mwah.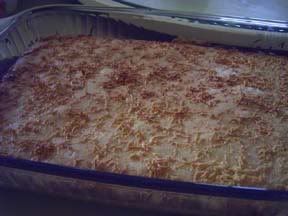 ---------------------------------

Ayan today, I went to megamall. Tagal na ko di nakapunta dun. Sobrang toxic. A few years ago, joy would ask bakit bad aw trip na trip ko mag mall. Well, hindi na ngayon. I hate shopping. Mum had to convince me to get nice girly shirts. Kasi I chose two na pang boys haha. Sabi nya umayus daw ako. So I got three more, since she's paying, bakit hindi. Mum, I want new shoes din. And a mailman's bag. And a newsboy hat.
i got pichi pichi, kuchay ah, and stuff for saturday.
i got a facial thing. hehe, masakit noh. nagsorry nga sa kin ung nag treat kasi umiyak ako. shempre di naman malakas noh. mejo i got really teary-eyed kasi na-soak ung gauze sa eyes ko ng luha. bakit? bakit?! bakit nya ko sinaktan?!!! pero ok naman. cute na ulit ako. nyaknyanyak!
sobrang tired ako when i got inside the car, buti na lang dad drove. sabi ko kasi wala akong license. eh wala naman talaga. bad back.
si hunny, sakiting bata...
-----------------------------
gotta rush a painting. bye bye!