i had saturday and sunday to celebrate it. tiring but fun.
saturday meant a whole day in makati. had lunch at chef d'angelo with celle,blythe and ali. then shopping. had japanese cheesecake plus drinks( care of aeah, isa pang birthday girl) in the late afternoon with the three,aeah, yoshi, and lemuel. after that, we dragged ourselves to artwork glorietta, where i got to see tinay, samio, and noel. the girls went shopping again. finally, the time came for my big splurge.
i met up with raena. i got my hair done at toni and guy. i am so in love with my hair. it finally stayed flat. and girly at that!
raena and i had dinner and wine at cascada. sarap the conversation and the wine together. gino even dropped by to kiss me happy birthday. sweet.
drunk-drove home. harhar! but hell, i am alive!
sunday, we just had a nice dinner at grilla. after that, jeje, tel, and let-let bought me cake and coffee at seisha. fave hang-out place ng sunday nights.
gosh, i am so in love with my hair. it doesn't stand on its ends even after i wake up.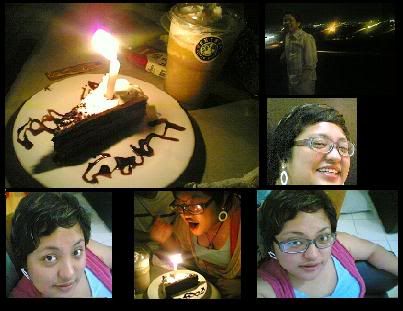 as for my wish list...let's see...
i got a zippo, a new hairstyle, a new dog (andrew gave me tyler and am bringing him home as soon as i clean up the garage), and earrings. am still waiting for my nike shoes. thanks, dad!
to those who greeted me on my special day, thank you. i was dead tired when i got home and woke up with 15 messages. a lot pa came after that. sweet.
i love you all.