i bumped into jez ( one of my patawa classmates from college. sparing partner ni mikko =) )yesterday in toy kingdom. o di ba, of all the places two adults could meet, sa toy kingdom pa. it was fun seeing him again, plus rachel, his girlfriend came pa. reunion ito. we had coffee and talked about whatever's happening with each other.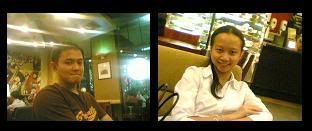 anyway, i fell asleep while i was having classes today. grabe, my students tried their best to wake me up,though. i just went home and slept till 8:30pm. although the rain was hard when i got to c5, good thing the traffic was light, i got in the office a minute early.
i tried wearing my contact lenses today, now, my eyes hurt. i didn't notice that there was a heavy protein build-up on one of them. i need to have them boiled. i just don't know where. i wonder if i can do them at home? i think i'd risk it since they're worthless now anyway.
my eyes are still burning. i'm wearing my grandma eyeglasses now. grabe, 6k for a new pair of lenses! i'll be stuck with my pwet-ng-baso eyeglasses forever. nakakainis. para namang umuubos ng gasolina ang mata ko...
raens tagged me. i have to write a hundred things about myself. give me a day to think about it.