i spent the morning trying to read my notes in design theory. it's not really like me to study but i never went through them before and staying 100% attentive in class is out of the question. i parked at the bahay ng alumni with blythe, and we amused ourselves to keep us awake until i have to go to class. she decided to go home around 11 or so, so i went to FA to study in quiet.
i then parked at the crowded parking area behind the buildings. astig na talaga mga students nowadays. mostly everyone in fa seems to be from the upper class. ang daming cars talaga. there were four rows of parked cars. really nice cars. the parking lot usually looked like that noon pag lantern parade lang. not even pag may parties nga eh. may mga drivers pa. si isa lang dati nag dadala ng driver eh. i did, too, when i was learning how to drive but i got rid of him eventually kasi pangit sa japorms hehe. joke.
and everyone's dressed up. you can compare kasi eh, coming from the back you'll see members of the artists' circle. most of them are from the old batches, super laid back and relaxed ng get-ups nila. still the same from what we wore nung time namin. grabe, the new kids, sobrang colorful. i am guilty of being colorful,too, but hey, fine arts yun. you get dirty there! and the accessories! i think it started when we were in the 3rd year when girls started coming in wearing white skirts and girly girly heeled slippers.
well. it's just weird. we looked very different from them for sure. we were serious business. well, sa fa lang, never mind the ge subjects. i just hope na this time, unlike before, wag sana maunahan ng porma nila ang talento nila. i'm not generalizing because there are hardcore na talented people pa din dun ha.
well, back to the topic, i was reading in my car, windows open and all, ayun, i fell asleep. kakahiya. must've slept in a weird position because i woke up with pain in my arms. i woke up at 12:30. i turned on the aircon, and fell asleep again.
i woke up at 1:02. went straight to the classroom. hay...the exam was rescheduled pala to next week. sarap. i promise to study na. swerte.
recitation is 25% sa grades. i sit on the 3rd row an
d right behind me, yep, the geeky girl. remember the girl sa american pie? she sounded like that, only perkier. i had my back to her, and it really annoyed me that she was too enthusiastic...i really have no plans to get infected by her perky bug. i took a peek at her. she wears braces and has a round face, and she was wearing a blue floral tube top. and she was smiling. creepy. she can have my 25%, tumahimik lang sya.
i now wonder, ganun kaya kami a long time ago? yuk.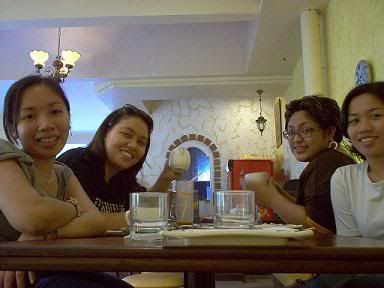 btw, breakfast at marilena's. still the best coffee and strawberry cheesecake for me.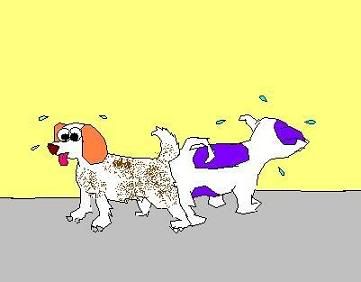 and if you get really bored at work, at paint lang ang meron sa pc mo, you do this...
wala lang.