saturday, 070905
i stuffed my car with 6 noisy officemates and drove off to rockwell to get neil gaiman books. hey, he's here in manila and it could only probably happen once in my lifetime, so i decided to get hardbound books and have them signed. my paperbacks are crumbly and dog-eared and all, so i needed a keeper. we got there before fully booked opened and i was thrilled to see the display table filled with various titles. i grabbed the two nicest hardbound books and had them swiped care of an officemate. i was the first one to make a purchase.yipee!
went to galleria after that. had lunch and saw fantastic 4 with my kid cousins.
when i got home, i realized that one book( sandman: king of dreams) is not by neil gaiman. it is a book about about the sandman series but not a sandman book! argh! i want neil gaiman to sign a neil gaiman book! i'm so stupid, no, really, too stupid. so i made calls to fully booked and confirmed that i can have the book exchanged. buti na lang.
sunday, 071005
so, it's back to rockwell for me, this time, mom, eten, and ali in tow. i was so windang when i got there kasi the table was empty. only one copy of
fables and reflections and a few of
mirrormask greeted me...tsk tsk...i was contemplating whether to make an exchange or just get a new one, but there, i got mirrormask and the sandman na lang. plus, i got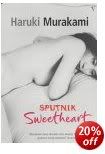 sputnik sweetheart by murakami (syempre, walang 20% off yun, jan lang sa picture). hayayay! spending more than i am earning... i need to kick myself and get some sense into my head.
ha! i have books! sarap... swipe, swipe,swipe...
monday, 071105
eto na,the day when i finally get to see neil in person.
i went to medical city muna for a checkup. made small talk and somehow convinced the doctor to give me an rx for stilnox. yup, i can declare this because i have an rx, and that means it is quite legal and i have nothing to worry about. i had brunch at the hospital. i was given free soup that i tried without thinking first. potah. sinigang. all the tiny hair on my batok made tindig.
after the hospital i went to gino's to borrow money then drove to greenhills. eto na.
i was right. neil won't be signing books during the forum. buti na lang my friends have connections and they got my book in sa backstage. the forum was amazing. i had so much fun and i was pretty enlightened din.
if i don't do it, i'll surely die...
music museum was to burst with gaiman's followers. it was really a splendid experience. neil was witty and funny. ang saya. despite the fact that my tummy was really disturning me, i had the most wonderful time.
too bad, since windang ako for days already, i forgot to bring my camera. sad. that really happens when you waste your brain cells doing crap over and over. you get windang and delusional and stiff and forgetful.
rushed to gateway after the forum. raena texted that neil signed my book! that surely made my day. eten and her friends were inside the mall already and i was hoping that they're already in the line. when i got to the bookstore, daming tao. i thought the line was short. i was surprised to see that the line went from the third floor to the first to even outside the mall! argh ulit! well, i decided i should be happy with one book signed( and paperback pa yun ha).
ah basta. well, i saw neil ulit, this time a little closer pa. and i also saw aiza seguerra and her girlfriend. wala lang. i just wanted to share.
i went to taco bell to get disappointed.
drove back to the hospital with eten and picked up tel from the office.
unbelievable. neil gaiman.